Cyber-security is of utmost importance in this digital era, and pen testing companies are instrumental in ensuring that your IT systems are as safe from attacks as possible. This is why it's important to make sure that you find the right pen testing companies in the UK to evaluate the overall security of your IT systems.
What Type of Testing Do You Need?
The UK's National Cyber Security Centre describes pen testing as: "A method for gaining assurance in the security of an IT system by attempting to breach some or all of that system's security, using the same tools and techniques as an adversary might".
A penetration test, or 'pen test', is a test that's designed to assess and analyse the security of an IT system. The test seeks to find strengths and weaknesses in the system, as well as potential unauthorised ways in which the system's data can be accessed. Basically, pen testing is a form of ethical hacking.
Although pen testing has a general goal, it can have different specific objectives depending on the needs of a particular system. Therefore, there are different types of pen testing:
White box testing
In white box testing, testers have full information about the target. This type of testing is designed to identify software vulnerabilities and system misconfigurations.
Black box testing
In black box testing, the testers have no information about the target. This type of testing can assess the risk of attacks from unknown external parties. However, it may overlook some vulnerabilities in the system.
Best Qualities of a Pen Testing Company
It's also important to evaluate the methodology used by your prospective pen testing company. The companies you're considering should be able to thoroughly explain their methods and the processes they use. Based on this information, you can then decide whether or not you can trust these companies with your IT system.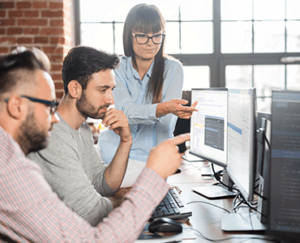 Pen testing companies should also be able to provide you with personalised services. Your needs may and probably will differ from the needs of other organisations. The company you hire should therefore have testers who are able to adapt their methods and approaches to your unique situation.
They should be able to provide you with the necessary aftercare and answer any questions you might have about their services. Penetration testing company reviews will be able to give you a better idea of how well certain companies provide this aftercare service.
Another thing to consider is the pricing of the companies you plan on hiring. Make sure to ask for quotes when you talk to a pen testing company, and make sure to ask how much specific services will cost. Choosing a company with competitive prices can help you in the long run in different ways.
Aardwolf Security can provide you with competitive pricing, competent aftercare, and personalised pen testing services. We also adhere to the highest security standards and use the OWASP methodology to give our clients the best service possible.
Your security is our top priority. To get a quote or learn more about our services, call us on 0203 5388 067 or email us at [email protected].
FREQUENTLY ASKED QUESTIONS
What is involved in penetration testing?
Penetration testing, also known as pen testing, is a service whereby cyber security agencies in the UK and overseas try to detect and exploit vulnerabilities in a business or organisation's technological infrastructure. They perform a simulated attack to detect a vulnerability in a system's defences that unethical hackers could try to exploit.
Are penetration testers in demand?
Yes, they are. More and more organisations are demanding pen testing services each day. According to a CybersecurityVentures.com report, cybercrime damages around the world could cost a total of $6 trillion (£4.3 trillion) by the end of the year. If you want to minimise the damage cybercrime could do to your business, only hire competent and reliable pen testers.

What is an example of penetration testing?
As mentioned, a pen test is a way to identify an organisation's system vulnerabilities. An excellent example of this is in web application security. In this scenario, pen testing is typically used to improve web application firewalls to secure business-critical web applications and the content they access.
How long does a pen test take?
A pen testing company in the UK usually requires two to three weeks to finish the job. They need to plan the penetration test carefully by ensuring that everything is in place and signed off before they proceed. The duration of this phase varies because it depends on the size and complexity of the organisation they're working with.
Why do we need security testing?
You need it to make sure your technological infrastructure is safe and secured from unethical hackers. An ethical hacking firm in the UK is different in that it performs security testing to find potential threats in your system and helps you assess potential vulnerabilities. This protects your business against threats, allowing it to keep operating and avoid future exploitation.
The Importance of Penetration Testing
Penetration testing is essential because, as time goes by, security issues or vulnerabilities will continue to emerge as technologies increasingly become interconnected. More and more businesses and organisations, big or small, are prone to cybercrime. For this reason, it's best to hire excellent pen testers from the get-go rather than wait for these hackers to cause problems in their operations. These testers can examine a security network's soft spots, recognise its flaws, and suggest ways as to how to improve it.
Things To Look For When Choosing A Network Pentesting Professional In The UK
Trustworthiness: Hire experienced pen testers who you feel comfortable entrusting your business' confidential information to.

Discipline: They must do the testing strictly as per your requirements.
Competence: Make sure to choose testers who can effectively detect vulnerabilities.
Technical Skills: Only hire testers who are well-versed in the systems you use.
Communication: Your hired testers should be able to communicate the issues they find to you in a way that's easily understood.
Business Logic: An excellent pen tester can propose effective solutions to the problems they find.
How Often You Should Perform Penetration Testing
We recommend having a pen test done at least once a year to ensure that your network is secured and protected. Moreover, a pen test is needed whenever your organisation adds new network infrastructure or applications; upgrades or modifies current ones; adds offices in new locations; applies security patches; and revises end-user policies.
If you've been searching for "the best penetration testing company near me", look no further than Aardwolf Security!