With the growing trend of digital banking and cyber threats, safeguarding your Automated Teller Machine (ATM) network has never been more crucial. We offer a specialised ATM penetration testing service designed to fortify your ATM systems, ensuring their resilience against malicious cyber activities.
Our ATM penetration testing involves simulating real-world attacks on your ATMs and connected networks to identify potential vulnerabilities that could be exploited by cybercriminals. By performing this crucial step, we can help you secure your customer transactions and maintain their trust in your banking services.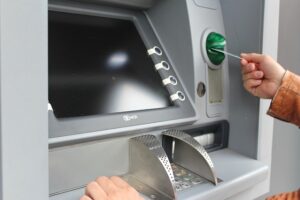 Why is ATM Penetration Testing Important?
ATMs are integral touchpoints between your bank and its customers, making them prime targets for cyber threats. In the face of sophisticated ATM fraud techniques, such as skimming, shimming, and jackpotting, your business needs to be prepared and fortified. Our ATM penetration testing service provides an effective solution to uncover weaknesses and devise actionable strategies to address them.
Our Approach to ATM Penetration Testing
Our skilled team of cybersecurity experts employs a multi-phased approach to ATM penetration testing:
Reconnaissance: We begin by gathering as much information about your ATMs and the surrounding networks as possible. This includes understanding hardware and software configurations, network infrastructure, and security controls in place.
Threat Simulation: Next, we simulate various real-world cyber attacks on your ATM network. This could include software attacks, network attacks, and physical attacks on the ATM machine itself.
Vulnerability Identification: After the simulated attacks, we meticulously analyse the results to identify vulnerabilities or areas of weakness that could be potentially exploited by a malicious attacker.
Reporting & Recommendations: We provide a detailed report of our findings, which includes a list of identified vulnerabilities, their potential impacts, and strategic recommendations for mitigation.
ATM Penetration Test Steps
Conducting an ATM (Automated Teller Machine) penetration test involves assessing the security of the ATM system, both hardware and software, against potential attacks. Here are some of the key aspects that would typically be audited:
Physical Security
This involves assessing the ATM's physical protections, such as locks and tamper-evident measures, to ensure they can withstand physical attacks like skimming or vandalisation.
Hardware and Peripheral Security
ATMs use a range of hardware devices such as card readers, cash dispensers, receipt printers, etc. These need to be tested to ensure they can't be tampered with or manipulated to perform unauthorised actions.
Operating System Security
Many ATMs run on commercial operating systems which may have known vulnerabilities. These systems should be hardened and patched regularly. The ATM should also be tested to ensure it has no unnecessary services or software that might be exploitable.
Network Security
ATMs communicate with the bank's servers via network connections. Penetration tests should assess the security of these connections to ensure that they are not vulnerable to attacks such as MITM (Man in The Middle) or data sniffing.
Software Application Security
The software applications running on the ATM should be tested for vulnerabilities, including insecure authentication or authorisation mechanisms, insufficient input validation, and susceptibility to code injection attacks.
Encryption
Sensitive data, like card details and PINs, should be properly encrypted in transit and at rest. The encryption mechanisms should be assessed to ensure they can't be easily broken.
Transaction Security
Test to ensure that the ATM accurately logs transactions, handles session management correctly, and doesn't allow transaction replay attacks.
Customer Data Protection
This involves auditing how the ATM handles, stores, and transmits customer data. It must comply with legal and industry requirements for data protection.
Incident Response
ATM should be able to detect and respond to security incidents effectively. This includes measures like intrusion detection systems, logging and monitoring, and incident response procedures.
Backup and Recovery
There should be robust backup and recovery measures in place to restore ATM operation in case of system failure, disaster, or a successful attack.
Benefits of Our ATM Penetration Testing
By choosing our service, you stand to gain:
Enhanced Security: Our testing method allows you to identify and address vulnerabilities in your ATM network before they can be exploited.
Compliance: With our service, you'll be better equipped to meet regulatory requirements for information security, such as the Payment Card Industry Data Security Standard (PCI DSS).
Customer Trust: Safeguarding your ATM network boosts your reputation for security, fostering trust among your customers.
Why Choose Us for ATM Penetration Testing?
As leaders in cybersecurity, we bring expertise, innovation, and a thorough understanding of both current and emerging threats to every engagement. Here's why we should be your first choice for ATM penetration testing:
Experienced Team: Our team consists of certified cybersecurity professionals who have extensive experience in performing ATM penetration tests across various sectors.
Customised Testing: We understand that every organisation is unique. Our experts customise each penetration test to align with your ATM network setup and business goals, ensuring that the testing process is as efficient and relevant as possible.
Detailed Reporting: We believe in transparency. Our reports are designed to be comprehensive and understandable, providing you with clear insights into your ATM network's vulnerabilities and effective solutions to fortify it.
Let's Secure Your ATM Network Today
As the digital world evolves, so do the threats that accompany it. Our ATM penetration testing service is designed to help you stay ahead of these threats. By identifying potential weaknesses in your ATM network, we empower you to secure your business and maintain the trust of your customers.
Are you ready to strengthen your ATM security?. Get in touch today for a free quote.