Our API penetration testing services provide a comprehensive security assessment for your APIs. We use the same tactics, tools, and techniques as real-world attackers to discover vulnerabilities that could impact the confidentiality, integrity, or availability of your data or infrastructure. Our objective is to help you secure your APIs and protect your business.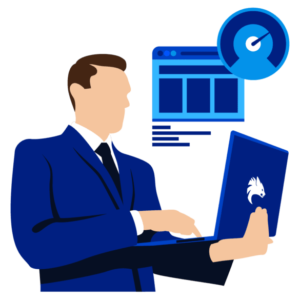 What is an API?
An Application Programming Interface (API) is a set of rules and protocols for building and interacting with software applications. APIs define the methods and data formats that a program should use to communicate with other software, much like a user interface enables a person to interact with a software program.
APIs are used in a wide variety of contexts, from web development to operating systems to software libraries, and more. They allow different software systems to communicate and share data with each other, enabling functionality that would be difficult or impossible to implement otherwise.
For example, when you use a mobile app to view a weather forecast, the app is likely using an API to retrieve the weather data from a server. The API defines how the app should request the data, what form the data will be in, and how the app should send any necessary data back to the server.
What is API Penetration Testing?
API penetration testing is an ethical hacking process designed to assess the security of your API design. The process involves attempting to exploit identified vulnerabilities and reporting them to strengthen the API and prevent unauthorised access or a data breach.
What are the Different Types of API Pen Testing?
API penetration testing can be categorised into two main types: static and dynamic testing. Static testing involves analysing the API's code to find vulnerabilities, while dynamic testing involves interacting with the API in real-time to find security issues.
Why is API Penetration Testing Important?
API penetration testing is crucial for several reasons:
Security
APIs are a common target for attackers because they often expose sensitive data and functionality. A successful attack on an API can lead to data breaches, unauthorized access to systems, and other severe consequences.
Compliance
Many industries have strict regulations regarding data protection and privacy. API penetration testing helps ensure that your organization complies with these regulations by identifying and addressing security vulnerabilities.
Reputation
A data breach can severely damage your organization's reputation, leading to a loss of customers and revenue. API penetration testing helps protect your reputation by ensuring the security of your APIs.
Our API Penetration Testing Methodology
We follow a rigorous methodology for our API. This includes preparation, where we agree on the scope of the test and gather necessary information; reconnaissance, where we gather as much information as possible about the target API; vulnerability analysis, where we identify potential vulnerabilities in the API; exploitation, where we test the identified vulnerabilities; and reporting, where we provide a detailed report of our findings and recommendations.
How to Perform API Penetration Testing
API penetration testing involves several steps:
1. Planning
Define the scope of the test, including the endpoints to be tested, and gather all necessary information, such as API documentation and access credentials.
2. Reconnaissance
Gather as much information as possible about the API, including its functionality, data structures, and authentication mechanisms.
3. Testing
Test the API for common vulnerabilities, such as authentication bypass, data leakage, and injection attacks. This can be done using automated tools, manual testing, or a combination of both.
4. Reporting
Document the findings, including any vulnerabilities identified, their potential impact, and recommendations on how to address them.
5. Remediation
Address the identified vulnerabilities and retest the API to ensure that all issues have been resolved.
Remember to follow ethical practices and obtain proper authorization before conducting any penetration testing.
Remember to include relevant keywords in your content, such as "API penetration testing", "data breach", and "security vulnerabilities", to improve your SEO ranking. Also, make sure to provide high-quality, valuable content to your audience, as this is one of the most important factors in SEO.
What are the Benefits of API Penetration Testing?
API penetration testing helps identify vulnerabilities in your APIs before they can be exploited by attackers. This proactive approach to security can help prevent data breaches, protect your company's reputation, and ensure compliance with data protection regulations.
What are the Risks of API Penetration Testing?
While API penetration testing is generally safe, there are potential risks. These include the possibility of disrupting services, causing unintended data loss, or revealing sensitive information. However, these risks are mitigated by using experienced testers and following best practices.
How Do I Prepare for an API Pen Test?
Preparing for an API penetration test involves defining the scope of the test, gathering information about the target API, and setting up a safe and controlled testing environment. It's also important to communicate with your team and any relevant third parties about the upcoming test.
What are the Steps Involved in an API Pen Test?
An API penetration test typically involves five stages: preparation, reconnaissance, vulnerability analysis, exploitation, and reporting. Each stage is crucial in identifying and addressing vulnerabilities in your APIs.
What are the Most Common Vulnerabilities Found in APIs?
The most common vulnerabilities found in APIs and associated web application penetration testing includes injection attacks, broken authentication, sensitive data exposure, XML external entities (XXE), broken access control, and security misconfigurations. These vulnerabilities can be identified and mitigated through API penetration testing.
How Do I Fix the Vulnerabilities Found in My APIs?
Once vulnerabilities are identified in your APIs, they can be fixed by modifying the API's code or configuration, updating insecure components, or implementing additional security controls. The specific remediation steps will depend on the nature of the vulnerability.
How Do I Prevent API Attacks?
Preventing API attacks involves implementing strong security controls, regularly testing your APIs for vulnerabilities, and keeping your APIs and their components up to date. It's also important to educate your team about API security best practices.
Why Choose Our API Security Testing Services?
Our team of experienced penetration testers brings a wealth of knowledge and expertise to every project. We use the latest tools and techniques to identify vulnerabilities in your APIs and provide actionable recommendations for remediation. Our approach is thorough, meticulous, and tailored to your specific needs.
API Penetration Testing Cost
The cost of API penetration testing can vary based on several factors:
Complexity of the API
The more endpoints your API has, the more complex it is, and the more time it will take to test thoroughly.
Depth of the Test
A more thorough test will cost more. For example, a test that includes both automated scanning and manual testing will cost more than automated scanning alone.
Experience of the Tester
More experienced testers will typically charge more for their services.
Location
The cost of living and demand for penetration testing services in the tester's location can also affect the cost.
As a result, the cost of API penetration testing can vary widely, from as low as £1,000 to £5,000 for a small and simple API, to £10,000 to £25,000 or more for a large and complex API.
Case Study: API Security Testing in Action
To illustrate the value of our API penetration testing services, consider the case of a recent client, a large e-commerce company. They engaged our services to test their APIs, which are critical to their business operations. Our testing identified several vulnerabilities, including a serious injection vulnerability that could have allowed an attacker to access sensitive customer data. We worked with the client to remediate the vulnerabilities and strengthen their API security. As a result, the client was able to protect their customer data and maintain their reputation for security and trustworthiness.
Testimonials
Don't just take our word for it. Here's what our clients have to say about our penetration testing services:
"It has been a pleasure working with Aardwolf Security to improve the security posture of our organisation. They have been professional throughout the engagement and diligent with their testing. Really kept us on our toes!"

– Fintech
"Aardwolf were a pleasure to work with – responsive to our specific requirements, professional in their approach, their communication throughout the planning, execution, and follow-up of our security testing was exemplary. I'd definitely recommend them for future security work."

– recruitment and human resources technology
Get a Quote for Penetration Testing Services
Don't wait for a security incident to happen. Proactively protect your APIs with our comprehensive penetration testing services. Get in touch today via our contact form to discuss your needs and get a fast quote for API testing. Secure your APIs, protect your business, and maintain the trust of your customers with Aardwolf Security.